THW Tribe Guide

The Happiness Web Tribe is our interactive information platform where members and partners share their KEI (Knowledge, Experience, Insights) amongst each other. The Tribe is an open online environment for all interested parties to explore our activities. The Tribe is welcoming all who are keen to join a movement to spread the viral entrepreneurship in rural Africa and beyond.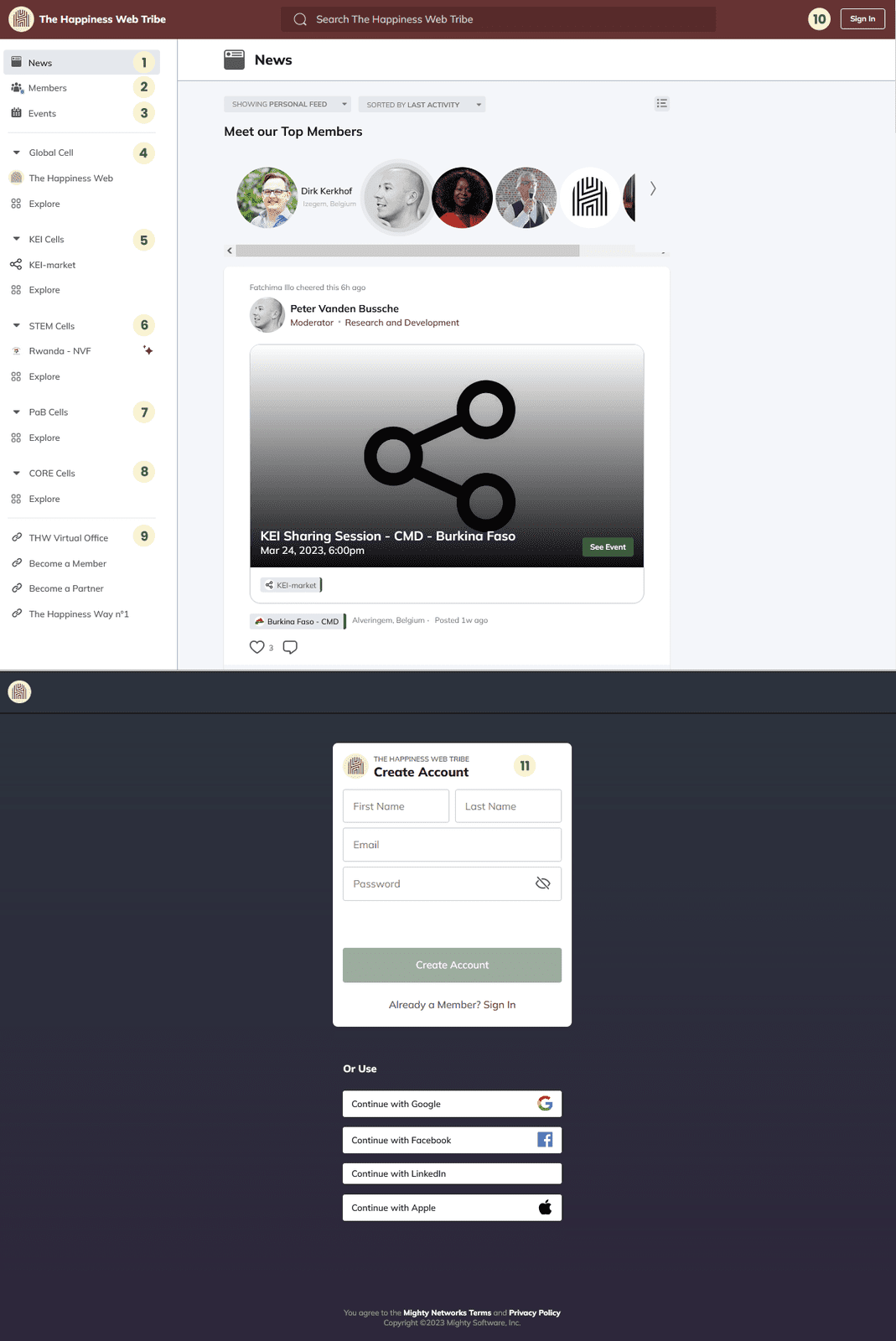 The Tribe platform offers a detailed overview of THW (The Happiness Web) activities.
1. News
The feed with the latest updated, announcement, members subscriptions and events.
2. Members
The list of all the members on THW Tribe.
3. Events
The overview of events hosted on the Tribe.
4. Global Cell

The general news feed to inform members, partners and visitors about our current activities.
5. KEI Cells
The space that serves to share your Knowledge, Experience and Insight amongst all who are encouraging the entrepreneur spirit.
6. STEM Cells
The selection of NGO partners who are united with THW and use the Tribe to seek out specific KEI as support for their daily activities and projects.

7. PaB Cells
The Plant a Business (PaB) partners who joined the Tribe with a concrete call for KEI to help develop their commercial activities.

8. Core Cells
The internal operational spaces of THW.

9. External links

🔗 THW Virtual Office
A direct link to the entrance of our virtual office.

🔗 Become a Member
A direct link to the registration form to become a member of THW.

🔗 Become a Partner
A direct link to the registration form to become a partner of THW.

🔗 The Happiness Way
A direct link to the annually magazine of THW.

10. Sign In
Entrance to login or register onto THW Tribe platform.

11. Registration screen

Create your Tribe account with your personal details or preferred social account.